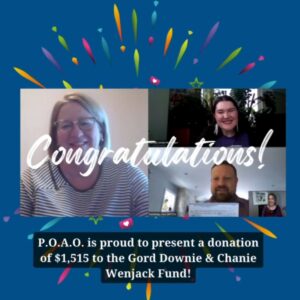 In November of 2021, we hosted our virtual symposium for POAO members and were inspired by a number of incredible guest speakers who reflected on the ways we can make a difference in our communities. After learning about the Downie Wenjack Fund (DWF) Legacy Schools program earlier in the year, we felt it was important to invite the organization to share more about their work in schools and workplaces across the country. Inspired by Chanie's story and Gord's call to action to build a better Canada, DWF aims to build cultural understanding and create a path toward reconciliation between Indigenous and non-Indigenous people. Through their programming and events, DWF strives to improve the lives of Indigenous people by building awareness, education, and connections between all peoples in Canada.
The event featured a virtual auction with proceeds supporting the work of DWF, made possible by nearly 20 generous donors. Many of our team members and P&P offices were also inspired to participate in a Walk for Wenjack to raise additional funds. Walk for Wenjack is a grassroots event that reflects on Chanie Wenjack's journey as he tried to walk more than 600km home to his family after escaping from the Cecilia Jeffrey residential school in Kenora, Ontario.
We are proud to present a donation of $1,515 to the Gord Downie & Chanie Wenjack Fund from the combined proceeds of our event. Thank you to everyone who participated in our events and made this contribution possible!
"We are so grateful for the Probation Officer's Association of Ontario's commitment to reconciliACTION," said Kayleigh Jordan-MacGregor, Development Associate with the Gord Downie & Chanie Wenjack Fund. "Through generous contributions like these, we are able to continue delivering programs, campaigns, and events that bring Indigenous and non-Indigenous peoples together to foster meaningful relationships and move reconciliation forward."
#wegotyou #poao #poaocanada #dosomething #reconciliACTION #walkforwenjack