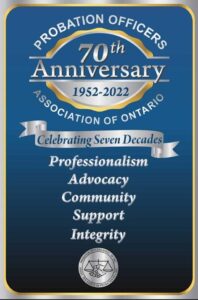 **The deadline for PO Week registration and/or payment to attend is Monday May 2nd @10:00pm**
Probation Officers Week, May 2-8 2022
PO WEEK 2022
POAO is celebrating our annual Probation Officers Week (PO Week) during the first week of May, 2022. As part of our celebrations, we are offering four great virtual workshops for all POs and PPOs to attend.
POAO members – use the links below to register.  Members have access to all four sessions.
Registrants who are not members of POAO will be charged a $25 registration fee.  If registering for multiple sessions, you will pay the registration fee for the first session only.  For any additional sessions, you can register as a member.
---
Tue, 3 May 2022
10:00 AM – 12:00 PM EDT
Managing the Cost of Caring:
https://www.eventbrite.ca/e/po-week-2022-managing-the-cost-of-caring-tickets-292607726587
---
Tue, 3 May 2022
1:00 PM – 3:00 PM EDT
Northern and Indigenous Street Gangs
https://www.eventbrite.ca/e/po-week-2022-northern-and-indigenous-street-gangs-tickets-292639852677
---
Thu, 5 May 2022
10:00 AM – 12:00 PM EDT
Basics of Drugs and Current Trends
https://www.eventbrite.ca/e/po-week-2022-the-basic-of-drugs-and-current-trends-tickets-298684753137
---
Thu, 5 May 2022
1:00 PM – 3:00 PM EDT
The Intersection of Tech, Sexuality, and Healthy Behaviour
https://www.eventbrite.ca/e/po-week22-addressing-intersection-of-tech-sexuality-healthy-behaviour-tickets-298686287727